MALVERN CHIROPRACTOR
Dr. Rick Goldfine has been providing Spinal Decompression services to patients in the Malvern, Paoli, West Chester and Exton areas and is convenient to all areas of Chester County, Great Valley and the MainLine.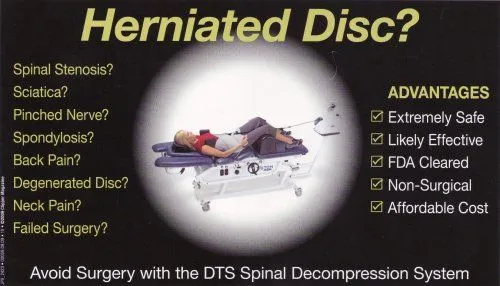 Spinal Decompression is an effective traction based therapy for lowback and neck pain. Most patient choose treatment by Dr. Rick Goldfine for one or more of the following reasons:
Complimentary Consultation to determine if your condition can benefit from Spinal Decompression

Spinal Decompression is a traction based therapy and covered by most insurances

Use of result oriented protocols that are individualized for each patient

Due to patient demand and results our office has two Spinal Decompression Units

State of the Art Equipment

Immediate Appointments for Emergency Patients

$30 per treatment for patients without insurance. WE DO NOT CHARGE RIDICULOUS FEES nor do we promote care plans costing thousands of dollars.
Please feel free to CONTACTour office if you would like to schedule an appointment or have any questions regarding Spinal Decompression. THANK YOU!
FREQUENTLY ASKED QUESTIONS
What is Spinal Decompression Therapy?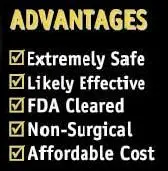 Spinal Decompression Therapy is FDA cleared and has been clinically proven with a very high success rate for pain associated with herniated or bulging discs...even after failed surgery.

It is a non-surgical, traction therapy for the relief of back and leg pain or neck and arm pain. During this procedure, by cycling through distraction and relaxation phases and by proper positioning, a spinal disc can be isolated and placed under negative pressure, causing a vacuum effect within it.
What can this vacuum effect do?
| | |
| --- | --- |
| The vacuum effect accomplishes two things. From a mechanical standpoint, disc material that has protruded or herniated outside the normal confines of the disc can be pulled back within the disc by the vacuum created within the disc. Also, the vacuum within the disc stimulates growth of blood supply, secondarily stimulating a healing response. This results in pain reduction and proper healing at the injured site. | |
What system is used and is the doctor certified?
After a significant amount of research, I chose the Kennedy Decompression System. The Kennedy Decompression System is the first Decompression System to incorporate advanced positioning concepts which allows mechanically assisted disc centralization to occur.

Quite simply, this allows the doctor to completely individualize the treatment for the needs of the patient with regards to the nature of their condition.

We selected the Kennedy Decompression System to effectively treat cervical and lumbar conditions.

In regards to clinical skills, Dr. Rick Goldfine has completed the Kennedy Decompression Technique course work and passed the qualifying examination to achieve the status of "Certified Practitioner" in spinal decompression therapy.
Why is Spinal Decompression Therapy so effective?
The Kennedy Decompression System computer and physician skills are the key. It controls the variations in the traction pull allowing for decompression and eliminating muscle guarding associated with other spinal decompression units.
The preprogrammed patterns for ramping up and down the amount of axial distraction allows for higher levels of decompression and disc rehydration.
Who can benefit from Spinal Decompression Therapy?
Anyone who has back pain or neck pain caused in whole or in part by a damaged disc may be helped by Spinal Decompression Therapy. These conditions include herniated, protruding or bulging discs, spinal stenosis, sciatica or radiculopathy (pinched nerves). Patients with these conditions, who have received limited results with previous chiropractic, physical therapy and steriod injections or other medical interventions would also benefit from spinal decompression.
Are there medical studies that document the effectiveness of Spinal Decompression Therapy?
| | |
| --- | --- |
| Most certainly! One Studydocumented by MRI up to 90% reduction of disc herniations in 10 of 14 cases! Another study reported that 86% of ruptured disc patients achieved "good" to "excellent" results after spinal decompression therapy! In fact, the research to date is so exciting that we have included the studies on our website. Just click here if you would like to review all of the studies for yourself. | |
Are there conditions where Spinal Decompression Therapy is not indicated?
| | |
| --- | --- |
| | Spinal Decompression Therapy is usually not recommended for pregnant women, patients who have severe osteoporosis, severe obesity or severe nerve damage. Spinal surgery with instrumentation (screws, metal plates) is also contraindicated. However, Spinal Decompression Therapy after bone fusion or non-fusion surgery can be performed. |
Are the sessions painful? How many will be needed? What is the cost?
In almost all cases, the treatments are completely painless. In fact, some patients fall asleep during the session.

The specific treatment plan will be determined by the doctor after your examination.

RESULTS MUST BE SEEN WITHIN 10 VISITS OF THE INITIAL PHASE OF TREATMENT!! MANY OF OUR PATIENTS SEE REMISSION OF THEIR PAIN WITHIN THIS PERIOD OF CARE ALONE! Some require additional care, BUT ONLY IF significant relief and progress is evident after 10 sessions of spinal decompression therapy in our office. Ongoing treatment will be determined based on response.

The bottom line? You are not spending thousands of dollars in advance to discover if Spinal Decompression Therapy is the answer to your chronic lower back or neck pain.

Most insurances that provide coverage for chiropractic will also cover traction therapy. If patients do not have insurance coverage, the cost of the treatment is $30 per treatment.

.

.

.

.
Do most patients receive therapy and rehabilitation in addition to Spinal DecompressionTherapy?
| | |
| --- | --- |
| | To reduce inflammation and assist the healing process, supporting structures are treated with passive therapies (ice, heat, muscle stimulation, ultrasound, massage and other forms of physiotherapy). Chiropractic adjustments will be coordinated as indicated to restore normal joint mechanics and function. Active rehabilitation will also be provided in order to strengthen the spinal musculature. |
How do I get started?
We want to make it easy for you to learn if you are a candidate for Spinal Decompression. We provide consultations free of charge.
If you do not have insurance, then print out any part of this webpage and bring it on your first visit and you will receive a complete evaluation - including consultation, history, orthopedic/neurological testing, X-rays (if indicated) and report of findings...FOR ONLY $59.00.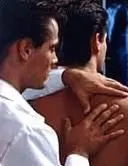 PLEASE CALL TODAY FOR YOUR CONSULTATION!
610-408-9400
---
Summary of Studies

"Serial MRI of 20 patients treated with the decompression table shows in our study up to 90% reduction of subligamentous nucleus herniation in 10 of 14. Some rehydration occurs detected by T2 and proton density signal increase. Torn annulus repair is seen in all."
Eyerman, Edward MD. Simple pelvic traction gives inconsistent relief to herniated lumbar disc sufferers. Journal of Neuroimaging. Paper presented to the American Society of Neuroimaging, Orlando, Florida 2-26-98.
"Eighty-six percent of ruptured intervertebral disc (RID) patients achieved 'good' (50-89% improvement) to 'excellent' (90-100% improvement) results with decompression. Sciatica and back pain were relieved." "Of the facet arthrosis patients, 75% obtained 'good' to 'excellent' results with decompression."
C. Norman Shealy, MD, PhD, and Vera Borgmeyer, RN, MA.
Decompression, Reduction, and Stabilization of the Lumbar Spine: A Cost-Effective Treatment for Lumbosacral Pain. American Journal of Pain Management Vol. 7 No. 2 April 1997
"Results showed that 86% of the 219 patients who completed the therapy reported immediate resolution of symptoms, while 84% remained pain-free 90 days post-treatment. Physical examination findings showed improvement in 92% of the 219 patients, and remained intact in 89% of these patients 90 days after treatment."
Gionis, Thomas MD; Groteke, Eric DC. Surgical Alternatives: Spinal Decompression. Orthopedic Technology Review. 2003; 6 (5).
"All but two of the patients in the study improved at least 30% or more in the first three weeks.""Utilizing the outcome measures, this form of decompression reduces symptoms and improves activities of daily living."
Bruce Gundersen, DC, FACO; Michael Henrie, MS II, Josh Christensen, DC. A Clinical Trial on Non-Surgical Spinal Decompression Using Vertebral Axial Distraction Delivered by a Computerized Traction Device. The Academy of Chiropractic Orthopedists, Quarterly Journal of ACO, June 2004
* Decompression, Reduction and Stabilization of the Lumbar Spine: An Effective Treatment for Lumbalgia
Additional Studies:
KDT ®, Kennedy Decompression® and Kennedy Decompression Technique®, are Registered Trademarks of Mir-Com Products, LLC