Welcome to Advanced Family Chiropractic!
Your chiropractor in Exton, PA.
Dr. Rick Goldfine is a board certified
chiropractor treating patients for seventeen years.


* CHIROPRACTIC ADJUSTMENTS
* THERAPY AND REHABILITATION
* SPINAL DECOMPRESSION THERAPY
* MASSAGE THERAPY
THE The Spinal Decompression Specialist
Dr. Rick Goldfine is a certified Spinal Decompression Practioner. Our office uses TWO STATE OF THE ART SPINAL DECOMPRESSION UNITS to treat both acute and chronic spinal conditions.
Advanced Family Chiropractic is absolutely committed to providing "Quality Care with Integrity." With a dedicated doctor like Rick Goldfine, DC helping you every step of the way, your pain may become of thing of the past.
Dr. Rick Goldfine is a board certified chiropractor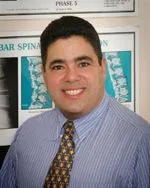 that has been in private practice for seventeen years.
Our office only uses the latest chiropractic equipment because patient results are the most important focus. Patients that have been treated by Dr. Rick know about his commitment to his patients.
" In my office, the patient always come first!"